History
Coincidences are exceptions in life. Things usually happen for a reason. This is probably why in 1858, company founder Jean Jacques Arbenz established himself in Schaffhausen, Switzerland, where everything indispensable for the production of his discerning jewellery was readily by hand: a notable tradition of craftsmanship aligned with an inspiring environment. The magnificent location on the Rhine, the medieval town centre, the surrounding natural beauty, the overwhelming power of the Rhine Falls. All this was and is a source of a creative strength which has always inspired the development of exceptional pieces of jewellery. Already in the first half of the 20th century, Fritz Furrer had already dedicated passionately to the business. In 1943, he joined forces, in business and in life, with Lucienne Jacot from French-speaking Switzerland.Since then, they have built a partnership based on creativity and precision manufacturing that has endured to this day.

Today Furrer-Jacot stands for a more than 150-year tradition of craftsmanship for custom-made jewellery, particularly exclusive wedding, engagement and eternity rings. Although the former one-man enterprise has developed into a producer of exclusive jewellery with a world-wide presence, dedication to the highest standards of craftsmanship and distinctive production remains at the heart of Furrer-Jacot's thoughts and actions.Distributed through a network of exclusive jewellers Furrer-Jacot nowadays is one of the leading companies for exclusive bridal jewellery.
2017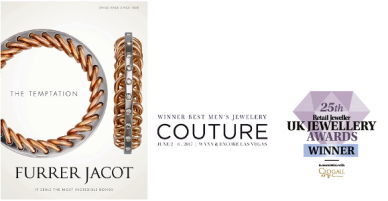 Left-hand picture:  The extraordinary Snakebone ring design 
Right-hand picture:  Winner of the 25th UK Jewellery Award BRIDAL and the Men's Couture Design Award
2016
Left-hand picture:  Moving to the former Schweizer Stahlwerke AG steel foundry site in Mühlentalstrasse.
Right-hand picture:  Furrer Jacot re-invents the Milgrain design.
2015

Left-hand picture:  Autonomous positioning of the Siara brand 
Right-hand picture:  First steps of Furrer-Jacot's re-entry into the classic jewellery sector 
2014

Left-hand picture:  Opening of the flagship store in Ginza Main Chome
Right-hand picture:  Launching of a range of solitaires for the US and international markets under the name Lucienne Collection.
2013
Repositioning of our brand DNA: truly and uniquely filling the topic «Bonding», supporting the expanded range. Furrer-Jacot becomes Furrer Jacot
2010

2010 - 2012
Left-hand picture:  Walter Häusermann takes over the company during the 2010 financial crisis and boosts its position as number one in the wedding-ring sector
Right-hand picture:  2012: Launching of the hand-wound Carbon Collection 
2008
Origami: Birth of a further design icon 
2003
Lucas Ruppli wins the De Beers Diamond Award for his best interpretation of the Fire Theme 
2003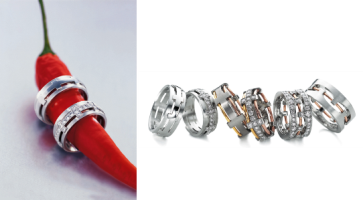 Left-hand picture:  Insolent advertising themes create brand presence 
Right-hand picture:  In 2003, the Sculpture Collection sets new standards in wedding ring design 
1998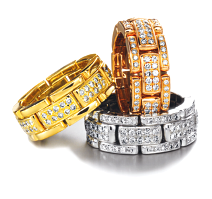 1998 - 2000
The Chain Ring, launched in 1998, remains a design icon to this day 
1999: Management buyout; 2000: Begin of wedding ring sales in the US and UK markets during a favourable currency situation 
1996
Launching of a special wedding ring range for Japan 
1992
Furrer Jacot presents the revolutionary Ringdividual system sales concept of combinable designs. The jewellery producer turns into a wedding ring manufacturer 
1990
1990: Basler Handelsgesellschaft take over UTC including Furrer Jacot and seek synergies  with Jelmoli department stores and international commerce 
Picture:  Design developed for Japan
1980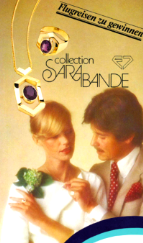 Sarabande: High fashion jewellery
Furrer-Jacot expands to Japan
1979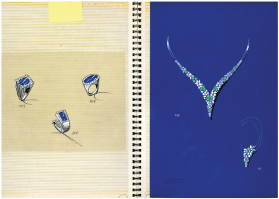 1979: Fritz Furrer surprisingly sells the company to Mr. Joerin in Basel, an oil trader and friend from military service days 
1975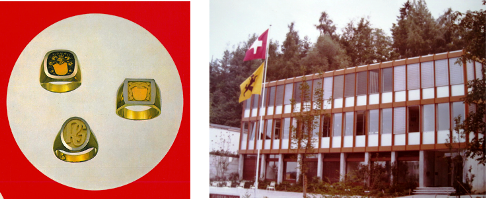 Left-hand picture:  Signet rings, a keystone of the business 
Right-hand picture: 1975: Inauguration of the new building in the street "Gruben" 
1960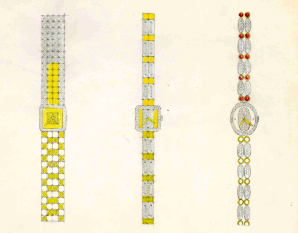 Boosting of the export business with the USA and Japan as core markets 
1950

Left-hand picture:  Excerpt from the 1950 design book 
Right-hand picture:  Furrer-Jacot's production facility in Münstergasse
1941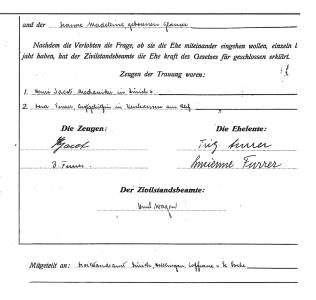 1941 - 1944
1941: Fritz Furrer joins the J.J. Arbenz company as commercial director; in 1943, he takes over the company 
That same year, he marries Lucienne Jacot from La Chaux-de-Fonds and renames the company Furrer-Jacot
1936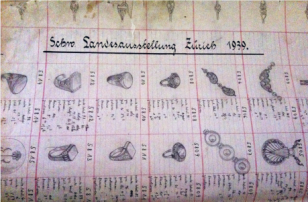 1936 - 1939
Excerpt from the design book range for the 1939 Swiss Expo 
1915

Left-hand picture:  Excerpt from the 1915 design book 
Right-hand picture:  J.J. Arbenz' expanding facility with partially mechanical prefabrication in Sporrengasse.
1872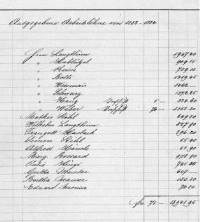 In 1872, the flourishing business has 26 employees 
1858

After his apprenticeship in Geneva, Jean Jacques Arbenz opens his own goldsmith's workshop in 1857. The following year, he accepts the offer to move his business to the ground floor of his family's in Schaffhausen. As a comment on the first closing date in his ledger, he enters Que je suis heureux! - "How happy I am!"